variable area meters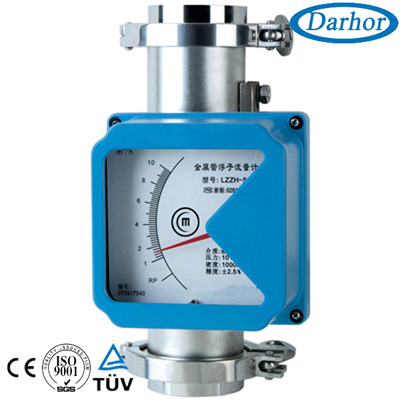 DH250 series variable area flowmeter is a kind of measuring meter which has local indication type and LCD displaying instantaneous/ accumulated flow rate, upper-limit and lower-limit alarm output, accumulative pulse output, batch control, standard two-wire 4-20mA current output, HART communi-cation, ect. Our product is good replacement of Krohne H250, ABB FAM540 and other similar rotamet- ers and widely used in the process control of industrial automation.
You may see our product is wildly used in many industries such as petrochemical, steel and iron, electric power, metallurgy, light industry, food, pharmacy and water processing of domestic China and worldwide.
Variable Area Flow meter Intelligent metal tube rotameter is a high-tech product, the use of stable, reliable and has
good prospects for use.
It is mainly used in liquid, gas flow measurement and automatic control system in the oil, chemical, pharmaceutical,
food and other industries.
Meter Model

DH250 Series

Flow range

Water 2.5 l/h to 200 m3/h
Air 0.07 to 4500m3/h (201.013bar)

Flow span

10:1

Accuracy

Standard accuracy: 1.5% High accuracy: 1.0%
Standard accuracy (PTFE-Liner): 2.5% High accuracy (PTFE-Liner): 1.5%

Connections

Flange connection
Standard: DIN2501DN15-DN200 )
Special: DIN2512DN15-DN200
ANSI1/2-8
The GB JIS users needs
Threaded fittings DIN11851SC40-SC80[1-1/2-3 〃]
According to demands of users

Steam Jacket Connections

Internal threads 1/2
NPT
Flange connection DN15 PN40 DIN2501
According to demands of users

Max.Allow. pressure

250bar

Temperature range

Fluid temperature
-40 to+200Standard type
-20 to+125PTFE-Liner type
-40 to+400High temperature type
Ambient temperature
-40 to+70

Materials

SS304、SS304L、SS316、SS316L
PTFE-Liner
Hastelloy C
Ti
According to demands of users

Protection class

IP67

Supply power

12-28V DCtwo-wire systembattery power

Ex-Design
Related Products